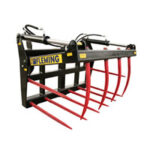 The Fleming General Purpose Grabs are made to highest standard possible with a number of uses in mind.
Fleming are currently offering three models in their General Purpose Grabs range. These are the:- SGB4 (4ft / 1.25m)
– SGB5 (5ft / 1.5m)
– SGB6 (6ft / 1.8m)

 
Specification (SGB4):
Opening Range
824 – 1230mm
Fleming 1.25m (4′) Tine Grab (SGB4)
<:section>
Specification (SGB5):
The Fleming General Purpose Grab is a versatile tine grab which is ideal for muck and silage. They are suitable for tractor mounted front end loaders as well as skid steers.
The General Purpose Grabs are also a very cost effective mode of transportation.
Features Include:
All hinge points are fitted with grease points
The top grab has 2 hydraulic cylinders for powerful gripping action and low power requirement
4 curved tines on 4ft and 5 curved tines on 5ft
Forged tines mounted in steel bushings
Heavy duty box section frame
Wear strips fitted on main beam
4ft model (SGB4) has 6 tines in base and 2 side tines for secure capacity
5ft model (SGB5) has 8 tines in base and also 2 side tines
6ft model (SGB6) has 2 rams and eleven tines